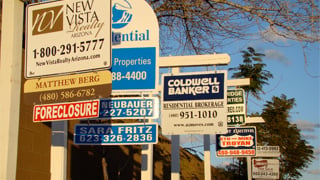 © CBS 5
PHOENIX (CBS5) -
Arizona is getting $160 million from the federal government to help homeowners who are upside down in their mortgage.
The program, called "Save Our Home Arizona," has the potential to lower the principle home loan balance to 100 percent loan to value.
The program was created to assist responsible homeowners avoid foreclosure on their primary residence with a possible principle reduction contribution up to $100,000.
Participants must meet certain guidelines. The current home loan must be owned by Fannie Mae or Freddie Mac, the property must be the homeowner's primary residence and current loan to value must be more than 120 percent. However, no financial hardship is required.
The State of Arizona has authorized few a mortgage companies in Arizona to participate, including Waterstone Mortgage in Gilbert and Scottsdale. For more information on the program and its requirements, people can contact 480-635-3042 or 480-635-3015.
Copyright 2013 CBS 5 (KPHO Broadcasting Corporation). All rights reserved.