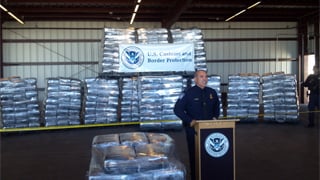 U.S. Customs and Border Patrol officials showed the 7 tons of marijuana seized Jan. 15. (Source: KOLD-TV)
NOGALES, AZ (AP) -
Federal authorities say they've made one of their largest marijuana seizures ever at an Arizona border crossing.
At a news conference Tuesday, U.S. Customs and Border Patrol officials showed the 7 tons of marijuana seized Jan. 15 at a commercial truck crossing point. It was at the Mariposa port of entry on the U.S.-Mexico border in Nogales, Ariz.
The 600 bales of pot were wrapped in plastic with each bale weighing between 25 and 30 pounds.
In all, authorities say the marijuana found hidden in a tractor trailer weighed more than 14,000 pounds.
CBP officials say their previous largest marijuana seizure at an Arizona border crossing was about 12,000 pounds in 2010.
A 26-year-old Mexican man accused of driving the truck is in federal custody. His name hasn't been released.
Copyright 2013 Associated Press. All rights reserved.