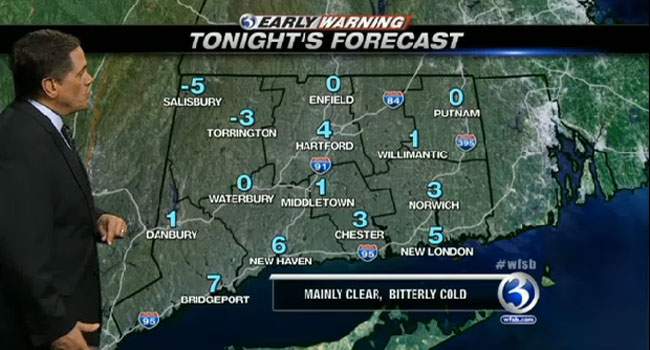 HARTFORD, CT (WFSB) -
Bitterly cold temperatures have found their way into Connecticut and appear to be staying here for a while.
Temperatures are expected to drop as low as 10 below zero and only get as high as 5 degrees.

Gov. Dannel Malloy issued a warning with the cold temperatures expected and said anyone in need of a place to stay warm is advised to call 211. He is also urging cities and towns to open warming centers to help people during the long stretch of frigid cold weather.
Warming centers have been opened in Bristol, Hartford, Torrington, West Haven and Winchester to help residents in need during this stretch of bitterly cold weather.
Click here for more information on the centers' locations.
Many homeless shelters are having a tough time meeting the demand for shelter and several of them told Eyewitness News that they even have to turn people away in the cold.
A slight warm-up is expected later this week, but it will only bring temperatures into the 20s at best.
Copyright 2013 WFSB (Meredith Corporation). All rights reserved.