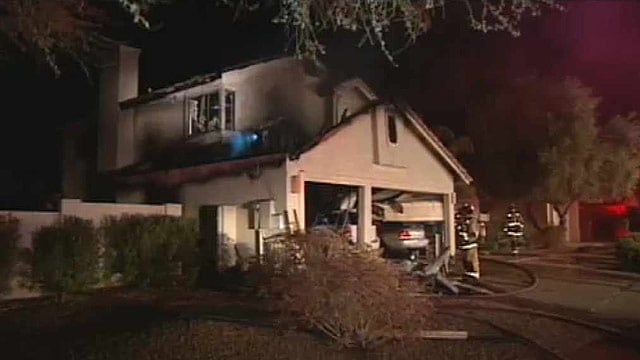 (Source: CBS 5 News) The fire is believed to have started about 11 p.m. in the garage of the home in the area of 100th Street and Sweetwater Avenue
PHOENIX (CBS5) -
Smoke detectors are being credited with waking a sleeping couple during a fire that severely damaged their north Scottsdale house late Tuesday night.
The fire is believed to have started about 11 p.m. in the garage of the home in the area of 100th Street and Sweetwater Avenue, according to Adam Hoster of the Scottsdale Fire Department.
Hoster said the couple were awakened by smoke detectors and were able to quickly get out of their house. He said as many as 32 firefighters fought the fire.
Hoster said the damage was limited to the area where the fire started, and that it did extend to two rooms on the second story of the house just above the garage.
No injuries were reported, and investigators were trying to determined the cause of the fire, Hoster said.
Copyright 2013 CBS 5 (KPHO Broadcasting Corporation). All rights reserved.