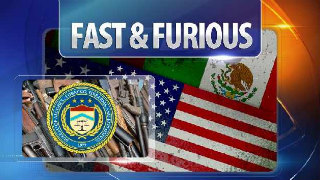 TUCSON, AZ (AP) -
A man accused of robbing marijuana smugglers after they sneaked into Arizona from Mexico has been sentenced to eight years in prison.
Authorities say Rito Osorio-Arellanes was part of a rip-off crew that preyed on smugglers.
Five other members of the alleged rip-off crew were accused of murder in the December 2010 shooting death of Border Patrol Agent Brian Terry.
Terry's death revealed the failures of the botched gun smuggling investigation known as Operation Fast and Furious.
Two rifles bought by a gun smuggling ring targeted in the investigation were found at the scene of shootout that mortally wounded Terry.
Rito Osorio-Arellanes was in custody before the shooting and doesn't face murder charges.
He pleaded guilty to conspiracy and has already served two years of his sentence.
Copyright 2013 Associated Press. All rights reserved.