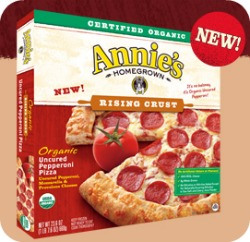 © (Source: Annie's Homegrown)
BERKELEY, CA (CBS5) -
A California company is recalling frozen pizzas after metal fragments were found in the flour and pizza dough at a third-party crust production facility.
In a news release on Wednesday afternoon, Annie's Homegrown Inc. said the problem was traced back to a broken metal mesh screen at a third-party flour mill. The company said some of the wire pieces were too small to be found by metal detectors, so they believe the pieces could be lodged in the frozen pizzas.
They do not have any reported injuries.
All of the "Annie's Homegrown Rising Crust Frozen Pizza" with a "Best By" date from Jan. 9, 2013 to Sept. 14, 2013 are affected.
The following products, with numbers "EST. 5699," "P-5699," or "P-15815B" ink jetted on the upper flap of the carton's side panel, are subject to a USDA recall:
23.6-oz. Organic Pepperoni Pizza, UPC code 0 13562 20000 9
25.4-oz. Organic Supreme Pizza, UPC code 0 13562 20002 3
22.6-oz. Pepperoni Pizza, UPC code 0 13562 20006 1
23.1-oz. BBQ Recipe Chicken Pizza, UPC code 0 13562 20009 2
The follow are part of an FDA recall.
23.5-oz. Organic Four Cheese Pizza, UPC code 0 13562 20001 6
22.5-oz. Four Cheese Pizza, UPC code 0 13562 20007 8
25-oz. Organic Spinach and Mushroom Pizza, UPC code 0 13562 20005 4
The pizzas were made at two facilities from May 9, 2013 to Jan. 17, 2013 and shipped to stores across the country.
If yo have questions, you can call Annie's Homegrown Pizza hotline at 888-825-6720.
Copyright 2013 CBS 5 (KPHO Broadcasting Corporation). All rights reserved.