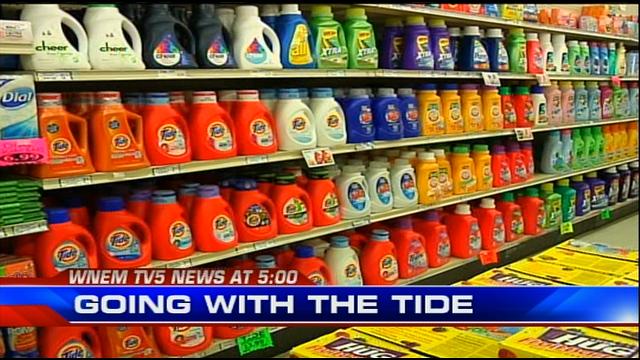 SAGINAW, MI (WNEM) -
Thieves are targeting supermarkets across the country and shoplifting massive amounts of detergent like Tide.
It's not cheap stuff. A 100-ounce bottle sells for about $14, and a bottle half that size can sell for as much as $11.
Alexandra Hernandez works at Fresh Food Depot in Saginaw. She was shocked when we told her people across the county were filling their carts with the soapy stuff, attempting to get the stolen items out of the store to sell the expensive detergent on the black market.
"I didn't hear about it until you told us. I just never would've thought of Tide. Anything else but Tide. I figured groceries, baby items, things like that, not Tide," Hernandez said.
Hernandez tells WNEM.com the store is taking extra precautions to make sure the product doesn't end up in the wrong hands. So far the store hasn't had any problems with anyone trying to steal the so-called liquid gold. Crime fighters say Tide is easy to sell and almost impossible to trace. Hernandez is hoping that doesn't motivate criminals to target her store.
"We'll just probably do inventory double now on it. And there's always a cashier at the front double checking their carts, making sure they're not walking out with any of them," Hernandez said.
You may remember a Kroger store in Flushing reported almost a dozen Tide thefts early last year. And police say a guy in Florida hit six different stores, getting away with more than $8,000 of Tide.
Copyright 2013 WNEM (Meredith Corporation). All rights reserved.