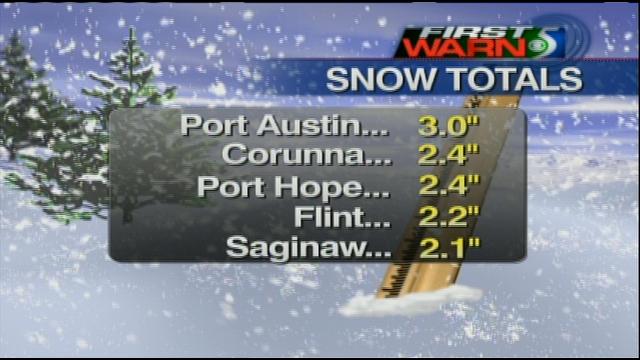 SAGINAW, MI (WNEM) -
A wintry mix of snow and rain caused tricky driving conditions on the roadways, and many schools across Mid-Michigan were closed as a result.
Roads were slushy early Monday morning, but snow plow trucks were out on the roads applying salt. Morning fog was also causing low visibility for many drivers but it has since burned off.
Warm air will continue to push into Mid-Michigan Monday, which means we will go from freezing rain to regular rain, to warm air later Monday. Monday highs will be in the low 40s, and the warm temperatures will stick around for a few days. A mid-week cold front brings cold air to Mid-Michigan by Thursday.
A photo on the right snows snowfall totals for parts of Mid-Michigan, and TV5 wants to hear from you about today's closings across the region -- do you think the roads were bad enough to warrant so many school closings? Vote in our poll on the left.
Copyright 2013 WNEM (Meredith Corporation). All rights reserved.