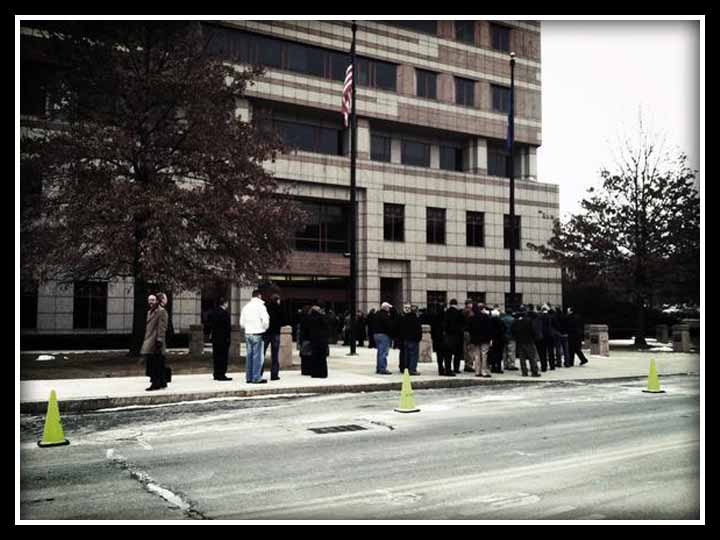 A line of people waiting to get into the Legislative Office Building in Hartford
HARTFORD, CT (WFSB/AP) -
Dozens of people lined up at the Legislative Office Building in Hartford Monday morning in advance of a hearing on gun violence and gun control.

The state Capitol police decided to install metal detectors and now all visitors will have to pass through in order to enter the building.
A large crowd is expected at the legislative hearing on gun violence and control Monday morning, and Channel 3 Eyewitness News reported Kate Rayner said the line of people hoping to sit in on the meeting has already stretched out the door and is on its way around the block.

The legislature's bipartisan Task Force on Gun Violence Prevention and Children's Safety is holding the public hearing to discuss various proposals and ideas for curbing gun violence in the wake of the mass shooting at Sandy Hook Elementary School in Newton on Dec. 14.

At the meeting on Monday, two survivors of the Colorado theater shooting are expected to speak at the public hearing.

State lawmakers said Stephen Barton and Ethan Rodriguez-Torrent are friends who grew up in Southbury and survived the Aurora shooting that killed 12 people last July.
Adam Lanza, 20, shot and killed his mother while she slept in her bed before going to Sandy Hook Elementary School where he killed 20 children and six adults.
He then killed himself as police entered the school.

Copyright 2013 WFSB (Meredith Corporation). The Associated Press contributed to this report. All rights reserved.