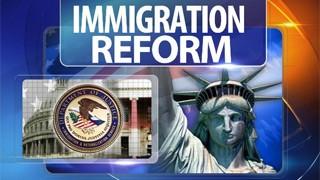 PHOENIX (AP) -
Two leading Democrats in Arizona's legislature are heading to Las Vegas to hear the president's speech on immigration reform.
House Assistant Minority Leader Ruben Gallego and Senate Minority Whip Anna Tovar were invited by the White House to attend President Barack Obama's immigration reform announcement on Tuesday.
Gallego says comprehensive revamping is needed in Arizona and the announcement signals an important moment in the debate.
Obama's speech will come a day after eight U.S. senators announced a bipartisan plan to reform the nation's immigration laws. Their proposal creates a pathway to citizenship while beefing up border security and workplace enforcement.
Sens. John McCain and Jeff Flake of Arizona were among the eight.
Copyright 2013 Associated Press. All rights reserved.