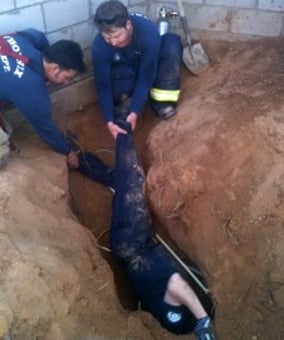 Scottsdale police and Phoenix fire crews dug a hole to reach to stranded pooch. (Source: Arizona Humane Society )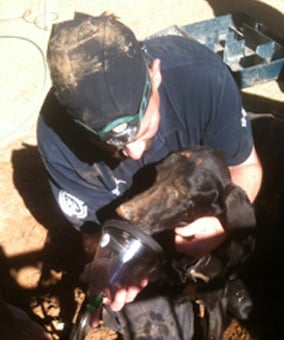 Sam was freed and glad to be back in someone's arms again. (Source: Arizona Human Society)
SCOTTSDALE, AZ (CBS5) -
A dog's curious nature led to a multi-city rescue mission after she got stuck in a tortoise den in Scottsdale.
No one is certain what Sam was looking for when she wandered into the den Jan. 21.
The 14-year-old black Labrador Retriever got stuck and went missing for hours, the Arizona Humane Society said.
Sam's family found her in the den but were unable to coax her out, so they called for help.
Emergency animal medical technicians with the Arizona Humane Society teamed with units from the Scottsdale Police Department and Phoenix Fire Department to formulate a plan to rescue the trapped canine.
The group spent nearly 1 1/2 hours digging to open up the hole before AHS's Field Operations Manager Chris West was able to reach the frightened dog and pull her out.
Sam was given oxygen while crews looked for any injuries. Finding none, crews handed her back to the family for a happy reunion.
Copyright 2013 CBS 5 (KPHO Broadcasting Corporation). All rights reserved.