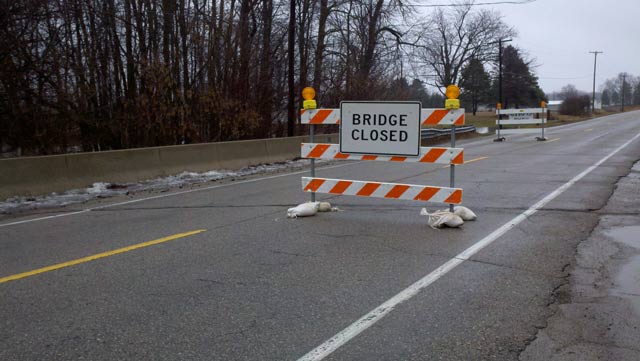 BAY COUNTY, MI (WNEM) -
The Bay County Road Commission is closing seven bridges across the county due to heavy rain and snow melt over the past couple days.
The commission said the bridges will remain closed until the water in the drainage course recedes and an inspection can be completed to determine if any structural damage occurred.
Drivers are warned that detour route signs may or may not be installed to direct traffic around the closed bridges.
The affected bridges are:
Fraser Township
Seven Mile Road over Tebo Drain, north of Erickson
Erickson Road over Tebo Drain, west of Seven Mile Road
Mackinaw Road over Johnson Drain, south of Townline 16
Pinconning Township
Hunter Road over the Pinconning River, north of Pinconning Road
Fraser Road over Pinconning River, north of Neuman Road
Beaver Township
Beaver Road over Kiesel Drain, between Nine Mile and Garfield
Mt. Forest Township
Garfield Road over the Pinconning River, between Neuman and Townline 16
The commission said in a news release that due to the short timeframe and number of closures, they are limited by available personnel and signage. They also stated that the closures are a direct result of a Federal mandate, in effect as of Jan. 1, 2011, which states that "a detour will be in effect for any bridge closed due to the potential undermining threat caused by flood waters at a bridge structure. Notice will be given to local media outlets."
The commission said further bridge closures are anticipated. For maps of the detours, click here to visit the road commission's website.
Stay with WNEM.com and TV5 as we learn more about the impact local flooding is having on our infrastructure.
Copyright 2013 WNEM (Meredith Corporation). All rights reserved.