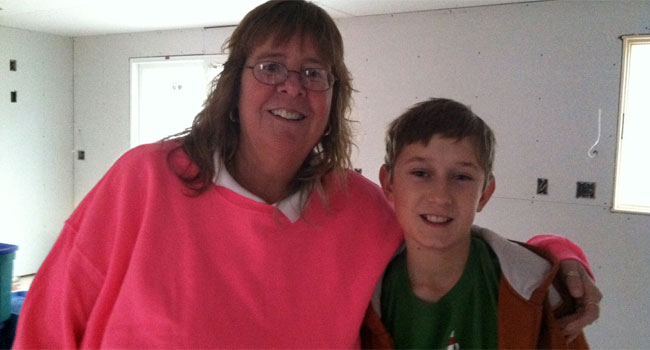 © A photo of Maureen Jahne with her nephew Owen provided by her family.
PLAINVILLE, CT (WFSB) -
A Southington woman was burned after her car caught on fire on Interstate 84 east in Plainville Friday morning.
According to police, Maureen Jahne, 55, was traveling eastbound on I-84 near Exit 33 when she crashed into another and the impact sent her off the road. She collided with a metal beam guide rail and hit a tree.
When the car finally came to rest, it caught on fire.

Jahne was taken to Hartford Hospital for treatment of burns and lacerations. Her condition is unknown at this time.
"We are so thankful to everyone who has helped her today - at Hartford Hospital and beyond. We know that she has been in the very best hands," said the Jahne Family in a statement Friday. "There are no words to describe how we feel about the officer and good Samaritan who risked their lives to save our beloved Maureen. We are so, so grateful."

The right lane on east was closed between exits 33 and 34 so emergency crews could work to extinguish the fire and clear the scene from the road. As a result of the lane closure, traffic quickly backed up in the area.
The crash remains under investigation and no charges have been filed at this time. Anyone with any information is asked to call state police at 860-534-1000.
Copyright 2013 WFSB (Meredith Corporation). All rights reserved.