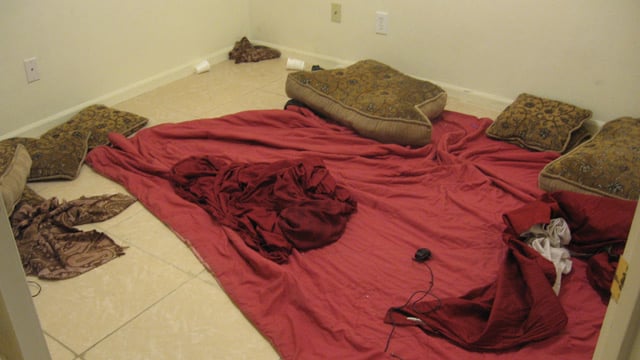 (Source: Maricopa County Sheriff's Office) Deputies said a 16-year-old boy was among 10 people found at a Glendale drop house Thursday. This is one of the bedrooms in that house.
PHOENIX (CBS5) -
A 16-year-old boy was among 10 illegal immigrants arrested by Maricopa County Sheriff's deputies at a Glendale drop house Thursday night.
The sheriff's office said the teen and his uncle were turned over to Immigration and Customs Enforcement while the other eight found at the house at 6764 N. 74th Dr. were booked into the Fourth Avenue Jail on various felony charges.
The suspects told deputies they were on their way to California, Ohio, Indiana, Washington and Pennsylvania and had paid between $2,000 and $4,500 to be smuggled into the U.S., according to the sheriff's office.
On Wednesday, deputies arrested four illegal aliens after 160 pounds of marijuana was found hidden in a Nissan car in which they were riding.
Copyright 2013 CBS 5 (KPHO Broadcasting Corporation). All rights reserved.