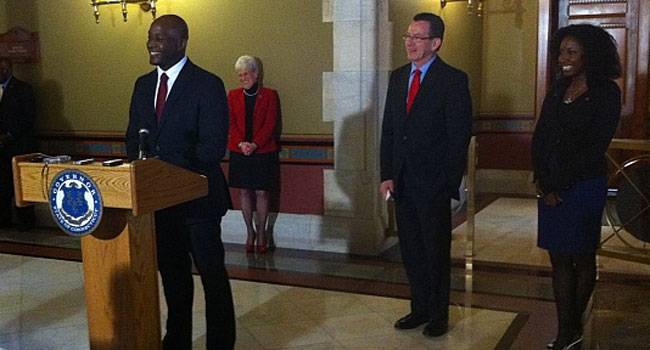 © The following photo was provided by the governor's office.
HARTFORD, CT (AP) -
Gov. Dannel P. Malloy is nominating a Chicago assistant state's attorney as Connecticut's new State Victim Advocate.
Garvin G. Ambrose, executive assistant state's attorney and legislative liaison in the Cook County State's Attorney's Office, would replace Michelle Cruz, whose 4-year term expired in April 2012.
Cruz has criticized the early release of state prison inmates under a program backed by Malloy. But the governor said Friday that her stance had nothing to do his decision not to reappoint her. Malloy said Ambrose was the top pick by the Victim Advocate Advisory Committee and that he interviewed the top two choices. Cruz was not in the top two.
The Victim Advocate, which requires legislation confirmation, is an ombudsman between crime victims and the criminal justice system. The advocate also evaluates state services for victims.
Copyright 2013 The Associated Press. All rights reserved. This material may not be published, broadcast, rewritten or redistributed.