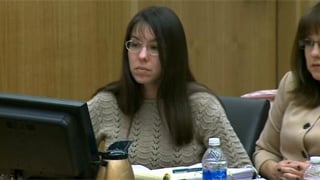 Jodi Arias on the stand Tuesday
PHOENIX (CBS5) -
A body language expert tells CBS 5 News Jodi Arias is not quite as calm and demure as she appears to be during her testimony.
We spoke with an expert who says the defense's strategy seems to be portraying Arias a demure, soft-spoken victim.
"She comes across as a plain girl, no makeup, no nothing, big glasses, straight hair," said Renate Mousseux, a body language expert.
She said while Arias is trying to appear shy and quiet, her nervousness shines through due to her hand gestures and slight movements. For example, Arias often touches her neck, a sign of nervousness, also called an adaptor.
"In a calm voice she speaks very relaxed, which is not the case because of the adaptors and pacifiers, and touching her face and neck and hair and the weird movements with her hands," Mousseux said.
Mousseux said Arias is constantly fidgeting throughout her time on the stand. Mousseux said Arias licked her lips 58 times in a half hour stretch on her first day of testimony.
For more information, visit: www.bodylanguage4success.com.
Copyright 2013 CBS 5 (KPHO Broadcasting Corporation). All rights reserved.