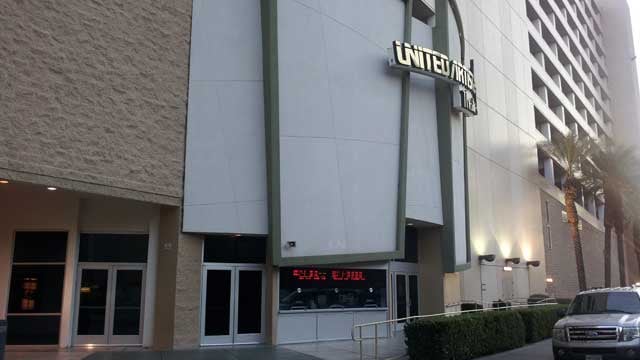 The United Artists Theater just off the Las Vegas Strip was the scene of a double shooting. (Dave Lawrence/FOX5)
LAS VEGAS (FOX5) -
A fight at a movie theater parking garage on the Las Vegas Strip resulted in two men being sent to the hospital with life-threatening gunshot wounds.
According to Las Vegas Metro police, the confrontation happened in the lobby adjacent to the Regal United Artists Showcase Theater just after midnight.

Metro said a fight broke out between two groups of people. During the confrontation, one person pulled a gun and fired shots, according to officials.
One of the victims fell into an elevator and ended up on the fifth floor, police said. The two men were transported to an area hospital.
Another person was treated at the scene with an apparent minor gunshot wound, police said.
Investigators with Metro's Violent Crimes Section believe the victims and the suspects involved were in an ongoing dispute, and the incident was not a random act.

Police were still seeking suspects in the shooting.
Police urge anyone with information on the incident to call Metro's Violent Crimes Section at 702-828-5634 or Crime Stoppers at 702-385-5555.

Stay tuned to FOX5 for the latest on this developing story.
Copyright 2013 KVVU (KVVU Broadcasting Corporation). All rights reserved.