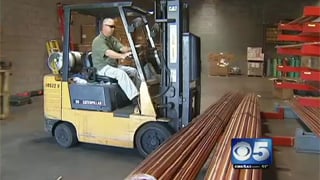 © CBS 5
PHOENIX (CBS5) -
New state legislation that would help deter metal theft passed its first hurdle Wednesday in the Arizona House.
An amended version of House Bill 2262, sponsored by Rep. Tom Forese of District 17, received unanimous support by all nine members of the House Commerce Committee.
The legislation amends current law to authorize the creation of an unprecedented theft notification system that will be free to use.
It will allow law enforcement personnel to send detailed descriptions of stolen items to recycling operations and other law enforcement agencies within at least a 100 mile radius of a theft site in real-time.
The website will also allow scrap metal dealers to alert law enforcement personnel when dealers are offered suspicious materials. [Related: Cops use internet database to find metal thieves]
Aside from those measures, the legislation also authorizes the creation of a state registration for scrap dealers.
The bill stipulates that the President of the Senate and the Speaker of the House will appoint a joint legislative committee on metal theft that is to be composed of legislators who will review the effectiveness of the bill's provisions once it is signed into law.
The committee will be required to report its findings to the President of the Senate and the Speaker of the House by Dec. 1, 2023.
Copyright 2013 CBS 5 (KPHO Broadcasting Corporation). All rights reserved.