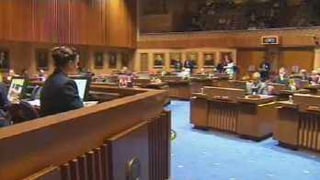 © CBS 5
A hearing room filled with patch-wearing motorcycle club members broke out in cheers as an Arizona Senate committee passed a bill requiring police to take training highlighting a ban on profiling of motorcyclists by law enforcement officers.
Wednesday's hearing before the Senate public safety committee was prompted by complaints from bikers who say they're frequently stopped by police for no legitimate reason. Republican Sen. Judy Burges of Sun City West is the sponsor.
The executive director of the state board that certifies police officers complained that the bill would prohibit some law enforcement action and make it more difficult to train officers.
Committee chairman Sen. Chester Crandell warned the cheering bikers that the bill still has a long way to go before it becomes law.
Copyright 2013 Associated Press. All rights reserved.