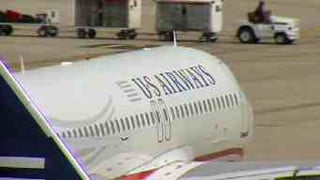 © CBS 5
US Airways flight attendants will begin voting on a tentative agreement that will include economic improvements, industry-leading job protections and an opportunity for negotiating additional improvements following the announcement of the pending merger with American Airlines.
"This agreement provides immediate improvements for all US Airways flight attendants while securing a strong position for the future. Ratification paves the way for US Airways flight attendants to be meaningful partners in this merger," said AFA US Airways Presidents Roger Holmin and Deborah Volpe.
Copyright 2013 CBS 5 (KPHO Broadcasting Corporation). All rights reserved.