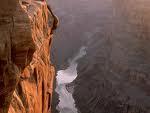 GRAND CANYON NATIONAL PARK, AZ (AP) -
Grand Canyon National Park has a new deputy superintendent.
Diane Chalfant has been hired for the job and is expected to start next month.
Chalfant is currently assigned as the NPS Deputy Associate Director of Interpretation and Education in the agency's Washington headquarters.
In that job, she worked on policy development, education partnership development and program evaluation.
Chalfant is a 32-year veteran of the National Park Service.
She has previously worked in six national park units including Yellowstone and Mount Rushmore National Memorial.
Chalfant will assist Grand Canyon National Park Superintendent Dave Uberuaga.
Copyright 2013 Associated Press. All rights reserved.