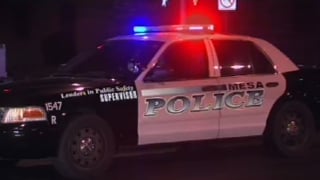 © CBS 5
MESA, AZ (CBS5) -
A Mesa school was evacuated Friday morning after a bomb threat was found in a bathroom.
Mesa Police Department spokesman Steve Berry said someone wrote about a bomb on a mirror with a marker in a boy's bathroom at Dobson High School on Thursday. The school resource officer and Mesa police checked the school but didn't find anything.
The same was the case Friday morning. Then mid-morning, a boy in a classroom commented about the bomb threat. His classmates and teacher heard and the boy was detained. Police evacuated the building.
The 16-year-old boy recanted the statement as a joke.
Police didn't find anything and classes resumed.
Copyright 2013 CBS 5 (KPHO Broadcasting Corporation). All rights reserved.