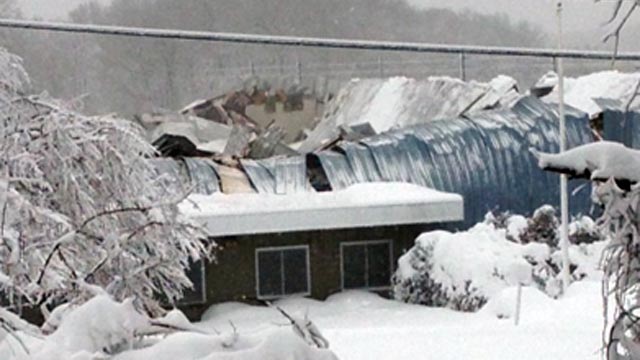 A building collapsed in Clinton Saturday morning.
CLINTON, CT (WFSB) -
Emergency crews in at least three towns have been called to roof collapses Saturday morning.
The roof at a warehouse, located at 30 Old Post Rd., collapsed early Saturday morning. The building was vacant at the time and no injuries were reported.
A barn at a dairy farm on Jackson Hill Road in Middlefield had its roof collapse around 12:15 p.m.
No one was hurt during the incident.

There were cattle inside the barn at the time, and first responders were working to get the animals out.
The roof at the Napa warehouse on Route 3 in Middletown also collapsed.
People were inside the building at the time of the collapse, but no one was seriously injured.
The weight of the snow also caused the bubble at the Cheshire Pool to collapse. However, town officials are not positive if the bubble was popped or not.

Copyright 2013 WFSB (Meredith Corporation). All rights reserved.