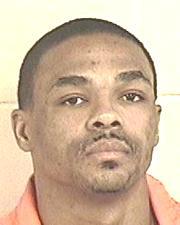 KANSAS CITY, MO (KCTV/AP) -
A 37-year-old Kansas City man whose family includes four other convicted killers has been found guilty of second-degree murder in a 2009 robbery attempt.
A Jackson County jury also convicted Diamond Blair of robbery and armed criminal action Friday night in the death of 22-year-old Montague Kevin Ashline on June 24, 2009.
Ashline was found shot to death outside the Alps Apartments near 36th Street and Baltimore Avenue on June 24, 2009.
Blair, whose uncle is serial killer Terry Blair, already is serving 23 years in prison for other convictions.
His mother was charged with murder twice and convicted once for killing her drug-dealing boyfriend in 1989.
Diamond Blair has a lengthy rap sheet that includes robbery, kidnapping, assault and weapons violations. His first arrest came when he was 6 years old.
He is currently serving time in federal prison on another conviction.
Copyright 2013 KCTV (Meredith Corp.) All rights reserved. The Associated Press contributed to this report.