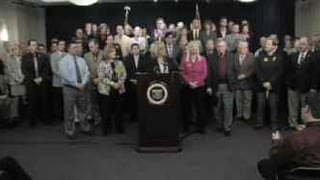 Monday's press conference was packed with business leaders and lawmakers.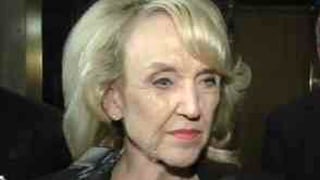 Arizona Gov. Jan Brewer
Gov. Jan Brewer says her proposal for a complete overhaul of Arizona's sales tax collection system will ease the burden on businesses hamstrung by one of the nation's most complex systems.
Brewer said a bill being introduced Monday will fix a system that it makes it extremely difficult for businesses to pay what they owe. She says business owners serving multiple cities must file multiple tax returns and undergo multiple audits.
Cities and towns strongly object to one part of the proposal changing how tax on new construction is collected. They say that will hurt growing cities by sending the taxes elsewhere.
Rep. John Kavanagh of Fountain Hills said that provision is a deal-breaker.
In May, Brewer established the TPT Simplification Task Force, which included business owners, retailers and tax experts to identify ways to simplify the sales tax code, reduce taxpayer confusion and improve compliance and efficiency.
The group convened 17 times between July and December, and has released recommendations to the Governor and Legislature.
Brewer announced the legislation at a press conference Monday packed with business leaders and lawmakers.
Copyright 2013 Associated Press. All rights reserved. CBS 5 (KPHO Broadcasting Corporation) contributed to this report.