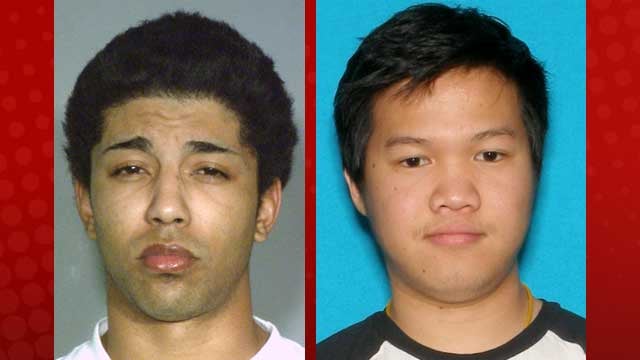 Devante Jeffers, left, and Ariya Manoi, right. (LVMPD)
LAS VEGAS (FOX5) -
Police announced the arrest of one suspect in a shooting at a parking garage outside of a Las Vegas Strip movie theater and a description of another being sought.
Las Vegas Metro police said Devante Jeffers, 18, was arrested Feb. 6 for his involvement in the shooting outside Regal United Artists Showcase Theater about midnight that day.
Police said the shooting injured three people, two of them critically.
Jeffers was booked into the Clark County Detention Center on charges of attempted murder, attempted murder with use of a deadly weapon, conspiracy to commit murder, battery with a deadly weapon and possession of a controlled substance with intent to sell.
Police also announced Monday they were searching for Ariya Manoi, 21, for his involvement in the shooting.
Police described Manoi as an Asian man, 5'11", 195 pounds with black hair and black eyes. Manoi faces felony warrants of attempted murder and battery with a deadly weapon.
Police said Manoi should be considered armed and dangerous.
Police urge anyone with information on the incident to contact Metro's Violent Crimes Section at 702-828-5634 or Crime Stoppers at 702-385-5555.
Copyright 2013 KVVU (KVVU Broadcasting Corporation). All rights reserved.