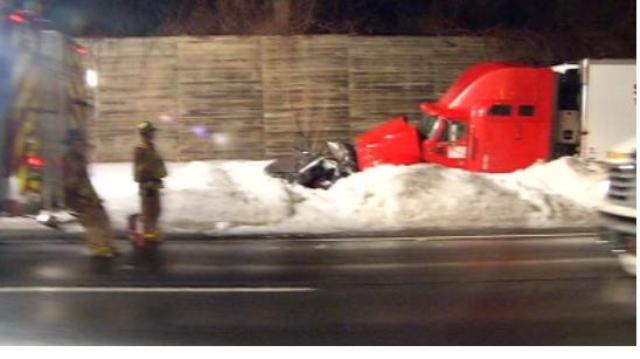 SOUTHINGTON, CT (WFSB) -
An overnight crash involving a tractor-trailer and another vehicle caused traffic issues early Tuesday morning.

State police said the crash happened around 12:30 a.m. Tuesday in the westbound lanes between exit 32 and 33.
According to police, the tractor-trailer and the vehicle lost control and collided. The truck then forced the vehicle into a snowbank on the side of the road.
The highway was closed for several hours as emergency crews worked to remove the driver of the vehicle.
Police said the driver of the vehicle was rushed to an area hospital with serious injuries.
The operator of the truck also suffered minor injuries.
As of 4:45 a.m., one lane of the westbound side of the highway was opened and the remaining lanes were opened after that.

State police said they do not believe the crash is weather-related.
Copyright 2013 WFSB (Meredith Corporation). All rights reserved.