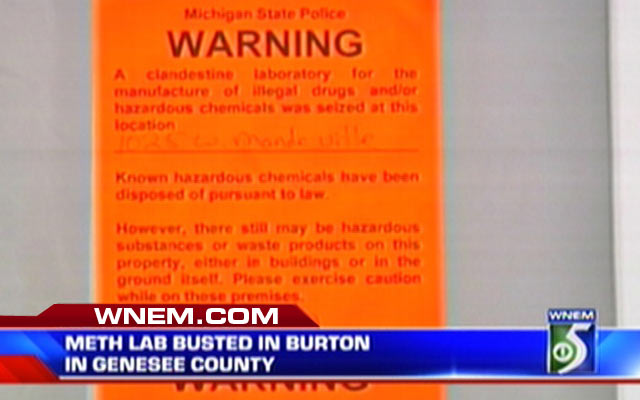 BURTON, MI (WNEM) -
Authorities in Genesee County busted up a suspected Methamphetamine lab inside a home in Burton on Monday night.
Police said the quiet neighborhood easily concealed the lab, one of the largest investigators say they've seen in the area. TV5 tried to speak with someone at the house on East Mandeville Street, but all she would say was that her attorney advised her against commenting on the situation.
Burton Fire Chief Doug Halstead said he was surprised at the location of the meth lab.
"That's unusual to find one in a home like that, they're few and far between anymore," said Halstead. "Now they're making single bottle, what they call single bottle meth and they use one bottle, they can do it in a trunk of a car, they can do it in a bathroom in a motel, they can do it where ever."
About 12 people were discovered by authorities Monday night when they raided the house. Police say five of those 12 were arrested and lodged at the Genesee County Jail. Charges against them are pending.
There's no word on just how many people - if any - were arrested in connection to the lab.
Residents in the neighborhood said they were totally unaware of what was going on at the house.
WNEM TV5 will have more details on this story coming up starting at 5 p.m.
Copyright 2013 WNEM (Meredith Corporation). All rights reserved.