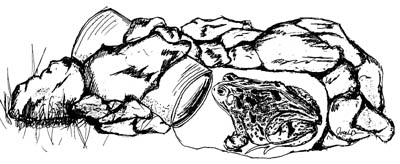 LANSING, MI (WNEM) -
The state of Michigan needs frog and toad surveyor volunteers. The Department of Natural Resources (DNR) announced that 2013 will mark the 18th year of the annual statewide Frog and Toad Survey coordinated by the DNR Wildlife Division.
This year, the DNR hopes to get valuable survey assistance from both veteran and first-time volunteers. Declining populations of frogs, toads and other amphibians have been documented worldwide since the 1980s. Studies suggest amphibians are disappearing because of habitat loss, pollution, disease and collection.
Michigan's annual survey efforts help biologists keep tabs on frog and toad abundance and distribution in the state.
"We have collected a large, valuable data set to help us evaluate the condition of Michigan's frog and toad populations," said Lori Sargent, the DNR's survey coordinator.
Sargent asked those interested in helping with the survey to contact her at SargentL@michigan.gov or 517-373-9418, and to leave their name and address.
Copyright 2013 WNEM (Meredith Broadcasting). All rights reserved.