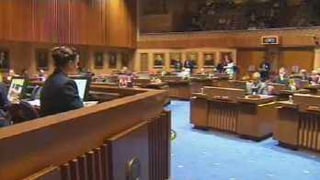 PHOENIX (AP) -
Arizona lawmakers are gearing up for another fight with Washington.
A Senate committee advanced a proposed state constitutional amendment Wednesday that would allow Arizona voters to reject any federal action they consider unconstitutional under federal law.
If the bill went to a statewide vote and was approved, Arizonians could then vote to direct the state government to ignore specific federal actions.
Republican Sen. Chester Crandell says voters are concerned about federal encroachment on state authority.
The National Conference of State Legislatures says members of at least 47 state legislatures proposed legislation to limit or oppose selected state or federal actions after the passage of the 2010 federal health care law championed by President Barack Obama.
Arizona lawmakers have also recently tussled with Washington over federal immigration laws.
Copyright 2013 Associated Press. All rights reserved.