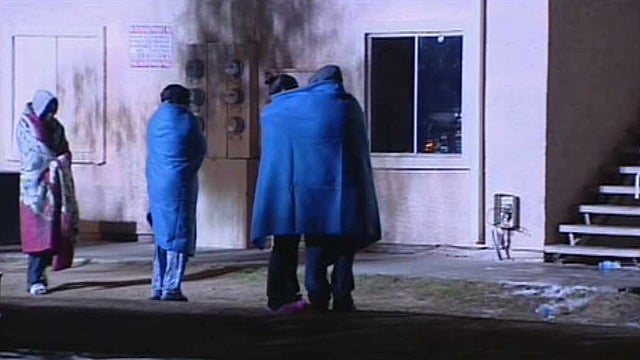 (Source: CBS 5 News) Up to 30 people were displaced by a fire at the Starlight Apartments in Phoenix early Thursday morning.
PHOENIX (CBS5) -
Up to 30 people were looking for new places to stay after a fire at a Phoenix apartment complex Thursday morning.
The fire began about 1 a.m. in a first-floor apartment bedroom and affected 12 units of the Starlight Apartments near Interstate 17 and Camelback Road, Capt. Troy Cassidy of the Phoenix Fire Department said.
He said flames were seen coming out of the bedroom when firefighters arrived, and the fire was contained to the original apartment.
The other units suffered smoke damage, but no injuries were reported, Cassidy said.
The Grand Canyon Chapter of the American Red Cross said it was assisting 13 people after the fire.
Cassidy said the apartment had furniture, but it was not known if it was occupied, he said.
The cause had not been determined and the fire department was continuing to investigate, Cassidy said.
Copyright 2013 CBS 5 (KPHO Broadcasting Corporation). All rights reserved.