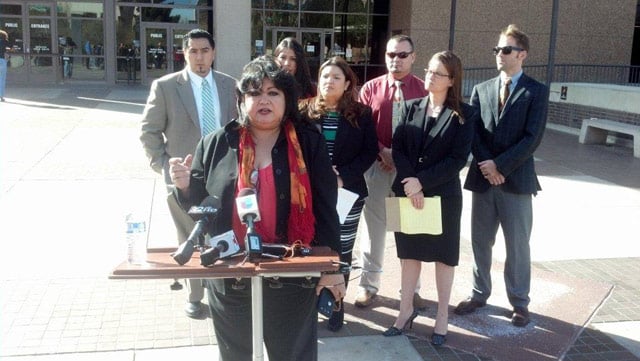 Lydia Guzman, national immigration chair for the League of United Latin American Citizens, speaks to the media Friday. (Source: CBS 5 News)
Activists accuse the Maricopa County attorney's office of bringing excessive charges against illegal immigrants arrested for identity theft crimes, arguing that college students found with fake IDs at bars are held to a different standard.
On Friday, the League of United Latin American Citizens of Arizona rallied in the Valley.
Tempe police recently announced they had seized more than 2,000 fake ID's from under-aged drinkers.
Under the law, suspects arrested in Maricopa County's frequent job-site raids could face felony charges of forgery and false identity that bar them from posting bail.
In contrast, college students found with fake IDs often have the document seized before being released.
Attorney Antonio Bustamante says the charges against illegal immigrants are an "unconscionable application of the law."
A spokesman for County Attorney Bill Montgomery dismissed the allegations, noting college students with fake IDs are not defrauding anyone, while illegal immigrants often use fake documents to obtain jobs and file false tax documents.
Copyright 2013 Associated Press. All rights reserved. CBS 5 (KPHO Broadcasting Corporation) contributed to this report.