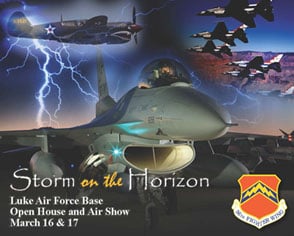 (Source: www.luke.af.mil)
LUKE AIR FORCE BASE, AZ (CBS5) -
Officials at Luke Air Force Base say budget concerns have caused them to cancel this year's show.
On Friday, Luke AFB officials said their 2013 Open House and Air Show will not happen. The show, called Storm on the Horizon, was scheduled for March 16-17.
"While I value the importance of this event to both the Air Force and our local community, given the budgetary pressures and expected repercussions if sequestration goes into effect, we need to cancel this year's Luke Days. I cannot in good conscience spend some of our limited resources to host an Open House, while the Defense Department considers potential civilian furloughs," Brig. Gen. Michael Rothstein, commander of the 56th Fighter Wing, said in a statement on Friday.
Rothstein said they're taking additional steps to cut costs including reducing the number of non-training flights, as well as deferring non-mission critical repairs and supply buys.
Rothstein said he hopes to resume special events like the Open House "as soon as possible."
Copyright 2013 CBS 5 (KPHO Broadcasting Corporation). All rights reserved.