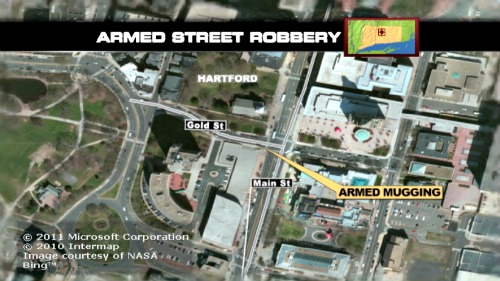 HARTFORD, CT (WFSB) -
Police are investigating an armed mugging in Hartford.
It happened just after 1:30 a.m. Saturday morning in the area of 1 Gold Street.
Police said a woman was walking to her friend's apartment when she was approached by a black male, who asked to use her cell phone.
According to police, the suspect then threatened the woman with a small black revolver and got away with her purse.
The suspect then fled on foot towards Bushnell Park.
Hartford police responded with canine unit to track down the suspect, but were unable to locate him.
The suspect is described by police as a black male between the ages of 25 and 30-years-old. He is said to stand about 5'8'' tall.
Anyone with information is asked to call Hartford police.
Copyright 2013 WFSB (Meredith Corporation). All rights reserved.