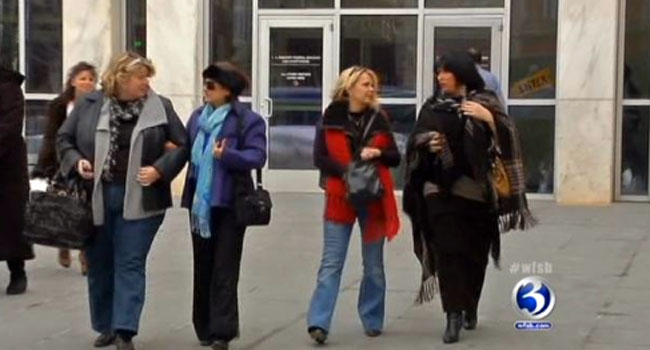 © The following photo is of women who supported Donna Bello and Jill Platt leaving Hartford Federal Court Tuesday afternoon.
Two Guilford women have been found guilty of running a gifting table pyramid scheme.
Prosecutors said Donna Bello and Jill Platt operated the scam from 2008 to 2011, recruiting new members to pay thousands of dollars to people who ranked higher in the group.
The New Haven Register reports Bello and Platt were convicted Wednesday of charges including wire fraud and filing false tax returns.
Prosecutors said the scheme involved women joining the clubs by giving $5,000 "gifts" to other table members. The new members climbed up the rankings by recruiting new members and left the tables after receiving $40,000 from new members.
Platt's attorney had said everything she did was legal and based upon the advice of lawyers. Bello's attorney denied it was a pyramid scheme.
Copyright 2013 The Associated Press. All rights reserved. This material may not be published, broadcast, rewritten or redistributed.