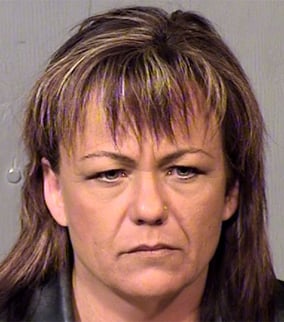 Michelle Hice (Source: Maricopa County Sheriff's Office)
An accountant accused of stealing about $145,000 from a veterinarian clinic in Buckeye and a Goodyear church has pleaded guilty.
Maricopa County prosecutors say 39-year-old Michelle Hice pleaded guilty Thursday to fraudulent schemes and artifices and misconduct involving weapons.
She's scheduled to be sentenced on Oct. 3.
Sheriff's officials said Hice was running the vet clinic's daily accounting, payroll, and bills for the past year through a third party accounting firm.
Last October, the vet clinic was contacted by the IRS for non-payment of taxes and discovered Hice had written more than $130,000 in unauthorized checks to herself.

Sheriff's detectives said Hice also did the church's accounting until she was fired last October.
Authorities determined Hice had written about $15,000 in checks to herself and depositing them in her bank account.

During her arrest, Sheriff's detectives found Hice in possession of two stolen credit cards and a .45 caliber handgun.
Copyright 2013 Associated Press. All rights reserved. CBS 5 (KPHO Broadcasting Corporation) contributed to this report.