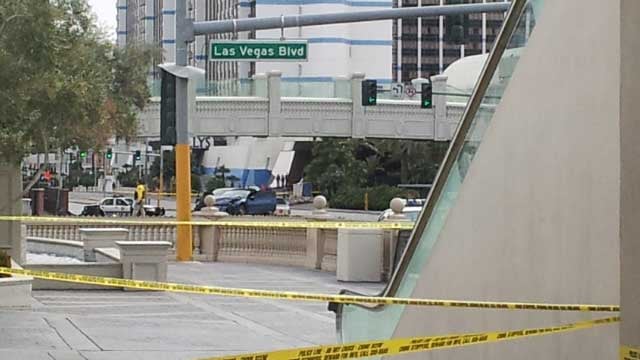 The usually bustling pedestrian corner at Las Vegas Boulevard and Flamingo Road was closed off following the deadly shooting and wreck on Feb. 21, 2013. (Dave Lawrence/FOX5)
LAS VEGAS (FOX5) -
MGM Resorts Vice President for Public Affairs Gordon Absher issued the following statement on Thursday afternoon concerning the shooting and subsequent wreck that claimed three lives:
"Each of our resorts employs fully trained, full-time, professional security departments and our extensive surveillance systems provide law enforcement with valuable assistance, often helping them close cases quickly. We continue to work closely with Metro on this investigation."
The Las Vegas Convention and Visitors Authority (LVCVA) issued this statement following Metro Sheriff Doug Gillespie's media briefing on Thursday afternoon:
"The LVCVA, resort partners and law enforcement work closely to maintain a safe and secure experience for our visitors and residents. Recent incidents, while unfortunate, were isolated events. Las Vegas is among the safest travel destinations in the world and utilizes the most advanced technology and training to maintain a secure environment.
"Providing a safe and secure experience is our top priority. According to statistics from the Metro, violent crime in the tourism corridor was down approximately 13 percent in 2012 and is down nearly 11 percent so far this year. Las Vegas continues to be a safe place to visit."
Caesars Entertainment Director of Communications Gary Thompson issued this statement:
"What happened this morning is a terrible tragedy. My deepest sympathies are with the families of those that were lost."
Copyright 2013 KVVU (KVVU Broadcasting Corporation). All rights reserved.