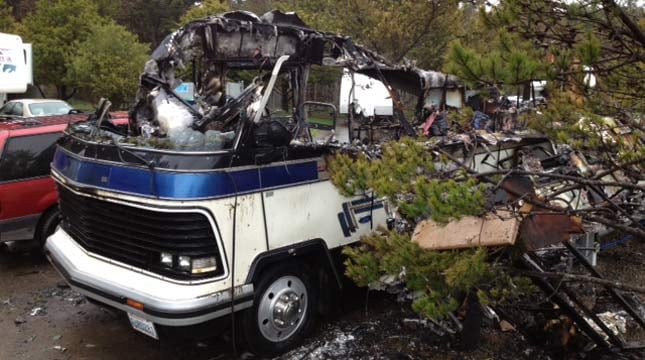 LINCOLN CITY, OR (KPTV) -
A hero dog awoke his sleeping owner to a fire in their RV.
Early Thursday morning John Martin, of Seattle, was sleeping in his Holiday Rambler RV at the Premier RV Resort in Lincoln City, OR, when his dog found something amiss. Ryse, a blue heeler mix, barked loud enough to wake Martin as a fire began in the back of his vehicle. He tried to put the fire out with a fire extinguisher, but it failed to work. But it may not have made a difference, as firefighters think the fire was already too big by that time to be put out with an extinguisher.
Martin and his dog escaped safely from the RV and it subsequently burned down. The heat from the fire also severely damaged his SUV parked nearby.
Martin credits Ryse for saving his life.
Copyright 2013 KPTV-KPDX Broadcasting Corporation. All rights reserved.