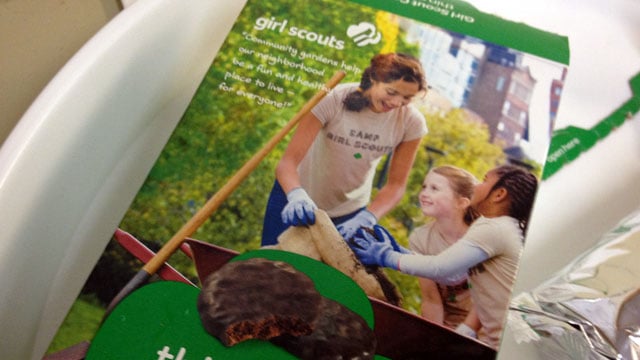 A box of the "Thin Mints" variety of Girl Scout cookies is displayed on a table. (File/FOX Carolina)
SPARTANBURG, SC (FOX Carolina) -
A Spartanburg man told deputies that nearly $19,000 worth of Girl Scout cookies were swiped from his business.

Spartanburg County deputies said they were called to Carey Moving and Storage on Monks Grove Church Road on Tuesday where the victim reported the cookie theft.
The victim told deputies that during the past two weeks, approximately 425 cases of Girl Scout cookies valued at $18,900 were stolen by an unknown thief.
FOX Carolina spoke with Carey Moving and Storage's manager Brian Carey, who said Thin Mint and Shortbread cookies were stolen during the heist. He said Carey is the main distribution point for Upstate Girl Scout cookies, storing and delivering about 150,000 cases a year at a reduced rate for the Girl Scouts.

He said they have worked with the Girl Scouts for 40 years and nothing like this has happened before. The stolen cases contained 12 boxes each, but sales should not be affected because the stolen cases were surplus, Carey said.

The company is reviewing surveillance but have not yet identified who stole them. The missing cookies came up missing during an inventory check. Carey said the company's insurance will cover the loss so the Girl Scouts don't have to bear the burden.

Anyone with information about the theft is asked to call Crime Stoppers at 1-888-CRIME-SC.
Copyright 2013 FOX Carolina (Meredith Corporation). All rights reserved.