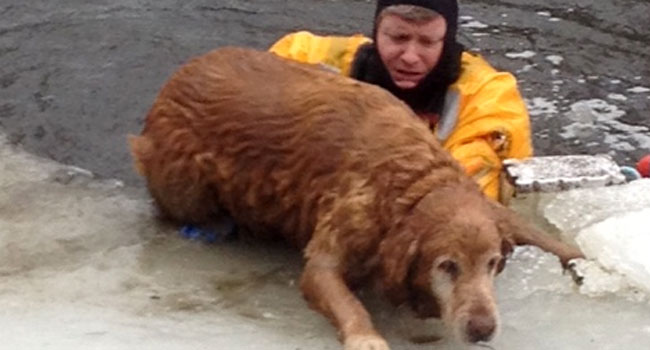 © The following photo was provided by the Westport Fire Department.
WESTPORT, CT (WFSB) -
The Westport Fire Department was able to rescue a dog that had fallen through the ice at a pond on Hales Road Wednesday morning.
The dog's owner called 9-1-1 after noticing his dog had fallen into water.
Firefighters, while wearing cold water suits, tethered to a rope from shore and rescued the animal, said Westport Fire Assistant Chief Robert Yost.
Once out of the water, the dog was taken by the town's animal control officer to a local veterinarian for evaluation.
Yost reminded residents to never walk on ice unless it is clear that it is safe and if people see an animal or person in the water, please call 911.
"The successful outcome of this rescue was due to the immediate call to 911 and not attempting to rescue the animal," Yost said. "There is a national figure of 67 percent of would be rescuers become victims themselves."
To see more pictures of the rescue, click the following link.

Copyright 2013 WFSB (Meredith Corporation). All rights reserved.