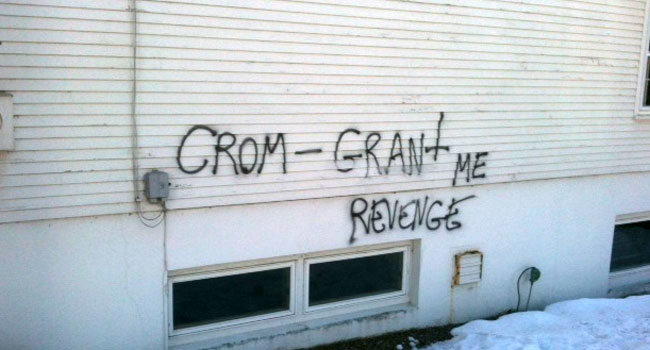 HARWINTON, CT (WFSB) -
The Connecticut State Police are investigating movie quotes spray-painted outside a church in Harwinton.
Parishioners discovered the writings on the Harwinton Congregational Church on Sunday morning before services.
"Crom - Grant Me Revenge," was written on the church, which is a famous quote from Conan the Barbarian that starred Arnold Schwarzenegger in the lead role.
"It's a small town, so it causes a stir," said Rev. John Wilmarth of First Congregation Church.
He added that he laughed it off and used the vandalism in his sermon.

Wilmarth told Eyewitness News when this incident is the worst thing to happen to his church in decades its a blessing.

In Torrington, police are investigating a similar incident where explicit words were spray-painted at a tanning salon.
Police believe it was the same person or people, who targeted the First Congregation Church.
The vandalism at the Harwinton church was cleaned up Monday.

No arrests have been made at this time. Anyone with any information should call state police at 860-485-1421.
Copyright 2013 WFSB (Meredith Corporation). All rights reserved.