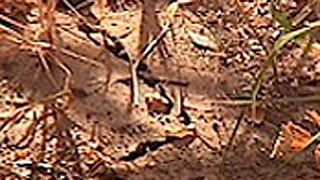 CBS 5
FLORENCE, AZ (CBS5) -
Years of drought and poor air quality are reasons behind a campfire ban enacted by Pinal County last June.
County officials are re-issuing the reminder after fielding complaints from residents planning to attend next month's Country Thunder music event.
"Campfires will not be permitted at Country Thunder due to the existing county ban," said Pinal County code compliance manager Wes LaCrosse.
Miranda said that the size and scope of an event like Country Thunder present a unique challenge for emergency responders.
"If a brush fire starts, we could have a serious evacuation and safety issue," Miranda said. "The fire danger is particularly acute in our desert open spaces and on our public lands. Just because we haven't had a fire at Country Thunder doesn't mean there isn't a valid risk. The event promoters understand the concerns and are supportive of the County's fire ban."
LaCrosse emphasized a moving brush fire could be devastating.
Air quality officials said portions of the county are in violation of the EPA health-based standards for dust and other particulate matter and cited campfires as contributing to the problem.
"The many fires left smoldering overnight at Country Thunder often resulted in a low-lying layer of smoke that could trigger health and respiratory problems," said Pinal County Air Quality Director Don Gabrielson.
Country Thunder runs from April 11-14.
Copyright 2013 CBS 5 (KPHO Broadcasting Corporation). All rights reserved.