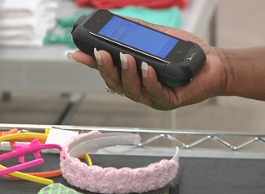 PHOENIX (CBS5) -
Gone are the days of standing in line at the cash register when a customer is ready to make a purchase.
JCPenneys across the country are using iPods so customers can check out wherever they are in the store.
"They can scan the items, email your receipt or print out a hard copy at the store," said Rosa Anderson, the store leader at JCPenney in the Ahwatukee Foothills.
The iPods can also be used to keep track of the items a customer may want to buy.
"If they happen to be on a budget, you can scan the items. You can actually sub total as you're going so the customer has an idea on what they're spending," said Anderson.
JCPenney is one of the first major retailers to use the technology to change the shopping experience.
The store also provides iPads to showcase different styles of jeans that are available in the store, so customers can look before trying on the clothes.
"So you can take a look at the iPad, scroll through. You can take a look at all the different styles and all the different fits that we have and kind of educate on maybe what you want to try next or what you're looking for," said Anderson.
Copyright 2013 CBS 5 (KPHO Broadcasting Corporation). All rights reserved.