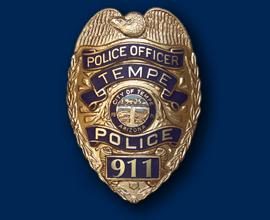 TEMPE, AZ (CBS5) -
A suspect is on the loose after ramming a Tempe Police officer head on with his vehicle and fleeing late Thursday night.

The incident occurred around 11 p.m. after a Tempe police officer witnessed a man standing outside of a silver Corvette and urinating near the entrance of the Hardy Police Substation.

The officer activated the overhead lights on his marked police car, which led to the suspect jumping back into his vehicle and accelerating into the front of the police unit.

The suspect then spun around and headed northbound on Hardy Drive at a high rate of speed.

Attempts to pursue and locate the vehicle were unsuccessful.

The officer reported no injuries, and the damage to his patrol vehicle did not appear to be extensive.

Tempe detectives are investigating this incident as aggravated assault against a police officer.
Copyright 2013 CBS5 (KPHO Broadcasting Corporation). All rights reserved.