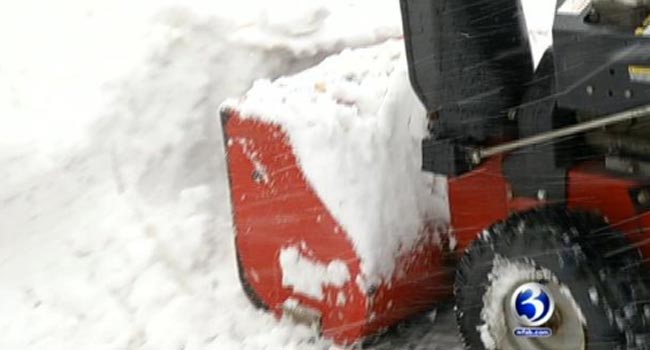 ELLINGTON, CT (WFSB) -
Residents in Hartford and Tolland counties woke up to a big blanket of snow to dig out of with some residents reporting up to a foot.
The heavy wet snow proved to be too much for some snowblowers in Ellington Friday morning.
"I was getting excited," said Joyce Welch, who was clearing her snowblower off with a shingle and mop handle. "I bought my potting soil and everything like that."
Hartford Hospital offered the following tips when dealing with snowblower jams to help residents avoid serious injuries:
Turn it off.
Disengage clutch.
Wait five seconds after shutting machine off to allow impeller blades to stop rotating.
Always use a stick or broom handle to clear impacted snow.
Never put your hand down chute or around blades.
Keep all shields in place. Do not remove the safety devices on the machine.
Keep hands and feet away from all moving parts.
Keep a clear head, concentrate and do not drink before using your snowblower.
Copyright 2013 WFSB (Meredith Corporation). All rights reserved.