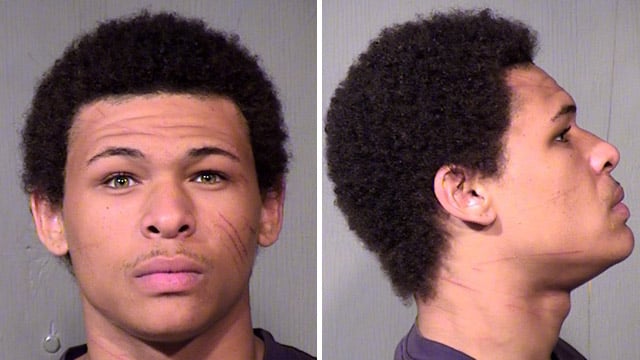 Police say Dontrell Williams is suspected of running from and firing multiple rounds at a Phoenix Police sergeant. (Source: Phoenix Police Department)
PHOENIX (CBS5) -
Phoenix police said they have arrested a 19-year-old man suspected of driving a vehicle that failed to stop for police and shooting at a police sergeant Wednesday night.
Officer James Holmes said Dontrell Deshaun Williams was arrested and booked into the Fourth Avenue Jail on charges of aggravated assault with a weapon and unlawful flight from a law enforcement vehicle.
The officer tried to pull over a suspicious vehicle with four people in it near 40th Street and Bell Road about 11:30 p.m. when the car sped westbound on Bell Road through Paradise Valley Park to near State Route 51, Holmes said.
The vehicle stopped near a pedestrian bridge that crosses SR 51 and the four people got out and ran in different directions, Holmes said. The officer followed the driver who ran toward the foot bridge, turned and fired at the officer.
Holmes said he didn't know why Williams ran from the officer.
He said the other three occupants were not going to be charged.
The officer took cover, and the suspect crossed the freeway on the foot bridge and escaped.
One person of interest was detained and gave police some information about the owner of the car, which was not stolen, Holmes said.
The sergeant was not hurt, Holmes said.
Copyright 2013 CBS 5 (KPHO Broadcasting Corporation). All rights reserved.