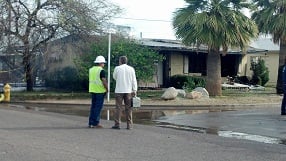 PHOENIX (CBS5) -
Authorities in Phoenix say no one was hurt when an explosive house fire startled a neighborhood near 19th Avenue and Missouri early Saturday morning.
Phoenix fire Captain Tony Mure said fire fighters arrived at a home in the2000 block of west Denton around 7:30 a.m. and immediately began work on the active flames.
Mure said several walls were blown out and the roof appears to have been lifted off the home briefly as a result of the explosion. An active gasoline had to be shut down.
Witnesses say they thought they heard gunfire and looked across the street to see the smoke filling the yard.
Mure said the homeowners used the home for storage and no one was there when the fire broke out.
Investigators are still working to identify the source of the fire.
Copyright 2013 KPHO Broadcasting Corporation.