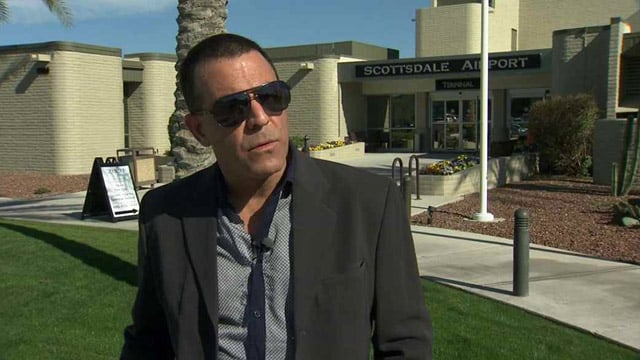 JetPurple Airwayz CEO Adam Blumenkranz says his airline will launch flights from Scottsdale over the Memorial Day weekend, but it doesn't have the licenses needed to operate, the city says. (Source: CBS 5 News)
SCOTTSDALE, AZ (CBS5) -
It's advertised as an alternative to Sky Harbor: Jetpurple Airwayz touts no waiting in line for security, no baggage fees and no hassle.
"All six destinations out of Scottsdale will be launching this Memorial Day weekend," said JetPurple Airwayz CEO Adam Blumenkranz.
But right now those flights may have some trouble getting off the ground. Despite what it says on the company's website, the communications director at the Scottsdale Airport told CBS 5 News that as of Sunday, the company didn't even have its business license.
A statement read in part, "Scottsdale Airport welcomes new businesses, but at this time JetPurple is not permitted with the city of Scottsdale to operate as a business offering charter flights."
CBS 5 News asked Blumenkranz why he didn't disclose the information.
"We're setting up our exact licenses with the city if Scottsdale to operate here," Blumenkranz said.
There is a JetPurple Airline that operates 10 flights a week from a small town in northern Michigan to Chicago Midway Airport. The spelling of the company is different. Blumenkranz said it's the same company, but CBS 5 News has not been able to confirm that.
Copyright 2013 CBS 5 (KPHO Broadcasting Corporation). All rights reserved.