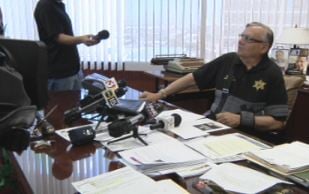 FILE PHOTO / Maricopa County Sheriff Joe Arpaio (Source: CBS 5 News)
PHOENIX (CBS5) -
Maricopa County Sheriff Joe Arpaio is suing the owners of the building where he fell and broke his shoulder more than a year ago.
Arpaio filed a lawsuit on Oct. 29 against the owners of the building on Central Avenue in downtown Phoenix.
He's blaming an "improperly maintained walkway" for his spill and is suing for damages which include medical expenses, according to the court documents.
He spent two days in the hospital and just over two weeks recuperating at home.
The sheriff said he tripped on a sidewalk on Feb. 28, 2013 near his headquarters on his way to a restaurant to get a quick bowl of soup. He fell on his shoulder and broke it in two places. He said he came close to hitting his head on a curb, but was fortunate to walk away with no other injuries, besides a few scrapes.
Copyright 2014 CBS 5 (KPHO Broadcasting Corporation). All rights reserved.