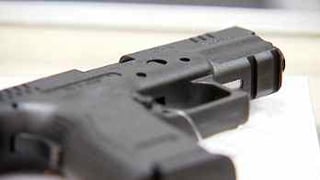 CBS 5
GILBERT, AZ (CBS5) -
A 5-year-old boy fired a handgun outside a Gilbert home Saturday morning, a neighbor told police.
Police investigating the incident in the 700 East block of Barbarita Street learned a 27-year-old woman was babysitting six children at the house.
Four of the children lived at the home and two of them were the babysitter's children, police said.
The 5-year-old child removed a 9mm handgun and a shotgun from the master bedroom closet and brought them outside, officers said.
He dropped the shotgun on the ground and fired one round from the handgun toward the east, police said. No one was injured and there was no property damage.
Child Protective Services was called to the scene.
Gilbert police remind parents the safest way to store a weapon is unloaded in a firearm safe or locker. Other levels of security might include adding a trigger lock and storing ammunition in a separate location, officers said.
Copyright 2013 CBS 5 (KPHO Broadcasting Corporation). All rights reserved.